How can I think of wrapping up the 2013 retrospective
without talking about books? This has been a year when I have (sort of) caught up with my reading. I have never, ever, been without a book in my hand. But, over the years, my reading had reduced, and recently, had been restricted to reading for Samhith, and thanks to buying more books for him, I have bought fewer for myself. The change began some time in 2012, but 2013 upped the pace. I began receiving more books for reviewing, till, eventually, I had to refuse some, since I didn't have enough time to read! It has been an interesting journey, reading books I probably wouldn't have bought, reading authors I had never heard of, genres I would tend to avoid, and in the process, re-discovering the love I have for the written word.
I can not mention books
without mentioning
#TSBC
. For those of you who are wondering what that is, it is
'The Sunday Book Club
' - a group on twitter, which tweets with the hashtag 'TSBC', and talks about, well, obviously, books! One of the founders is a dear friend, Sudha Ganapathy, and though I haven't been as enthusiastic a participant as I would like to be, TSBC has certainly led to me reading a lot more, and, more importantly, connecting to like minded people, who read just as much, or more, than I do! And yes, this year, I have also met some of these wonderful people!
With the #TSBC gang at Krishna Udayasankar's reading of the second book in her Aryavarta Chronicles series - Kaurava
Taking part in the #TSBC Book Exchange brought me some wonderful books, and sending off books to someone I didn't know was a wonderful experience too. After all, what can be more fun than picking out books for someone!!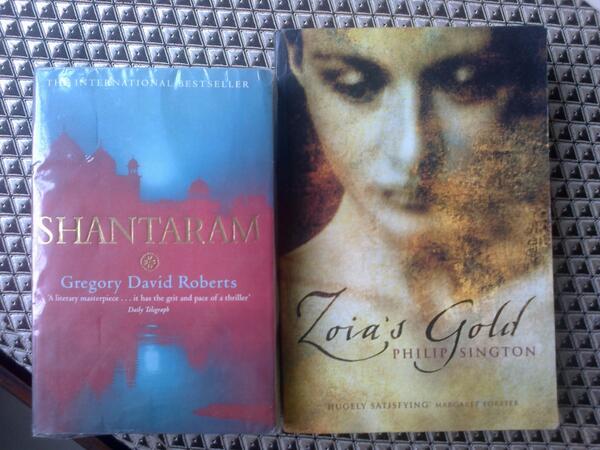 These were the wonderful books I got from my secret book giver, through the TSBC Book Exchange! And they also sent me some lovely postcards!
Meanwhile
, this year, I was interviewed, for the very first time, by
Fablery.com
! interestingly, it wasnt as a Travel Blogger, but as a Book Reviewer, that I gained this fame!!! Makes me wonder - should I switch to blogging full time about books instead? What do you think?